F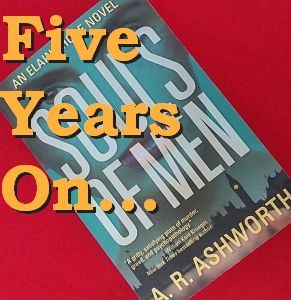 ive years ago this month I began writing my first novel about Elaine Hope, a brilliant detective in the London Metropolitan Police. The book emerged from a story that had long churned in my mind.
SOULS OF MEN begins Elaine's story. In it, she leads the investigation into the brutal deaths of two women, and makes a courageous, selfless decision that changes her life forever. I drew the theme for this book from Loftur the Sorcerer, a century-old Icelandic Faust play: "My desires are powerful and boundless. In the beginning was desire. Desires are the souls of men."
In TWO FACED, the second Elaine Hope novel, she conducts a vengeful rogue operation, fights to save a troubled woman, and races to stop a murderous gangster, all while unraveling a labyrinthine corruption plot within the Met. I was inspired by lines from W. H. Auden's poem, September 1, 1939: "All I have is a voice to undo the folded lie."
I'm now writing the third Elaine Hope novel under the working title If I Can't Have You. (Read almost any newspaper, almost any day…)
But all is not dark for Elaine. Peter Willend, a physically scarred, widowed, former soldier in the midst of rebuilding his shattered life, falls in love with Elaine. His offer of unconditional love, and her tentative, unwilling response determine their paths back from horrendous personal tragedies.
A writer friend once told me "you like to write about damaged people." That is true. Thematically, each novel deals with a different way in which women are abused—all wrapped with dark, and I hope intriguing, mysteries. Elaine and Peter's story drives me to this day and, if I'm lucky and stick to the plan, through several more books. They have a lot to say.